Succeeded in realization of downsizing by simple components.
From standard 200-300mm wafers to G8-G10.5 glass substrates, and to nonstandard size, furthermore, we are available to any customer requested specifications for the connecting part.

VTEX can be customized from small lots according to customer needs based on extensive experiences.
Product lineup by application
We classify them into three main categories according to the cutoff capacity.
Door valve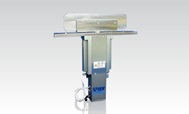 Valve subject to atmospheric pressure in the sealing direction of the valve body
Isobaric valve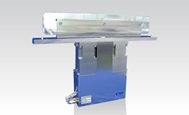 Valve used at the same pressure
Back pressure valve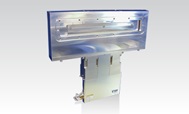 Valve subject to a force in a direction opposite to the sealing direction of the valve body
About VTEX Slit valve
Corresponding size
200 mm and 300 mm wafers to G10.5 glass substrates
The valve drive type differs depending on the specifications such as opening size and shutoff capacity, and there are various types.

We propose an optimal drive system according to the specifications of our customers.
Drive type
Rollcam type
Twin-Rollcam type
True-L Motion type
T-Motion type
R2R-type valves (Roll to Roll process-compatible valves)
Feature
There are no sliding parts between the metals inside the valve which is in vacuum.
Compact and space-saving design for simple and minimum number of components
Since the sealing surface of the valve body is vertical, the risk of foreign matter being caught is minimized.
The standard specifications are high-durability, maintenance-free design with up to one million operations.
The O-ring is the standard valve seal.Contributing to cost reductions.
Main common specifications (standards)
Leak rate
Body: 4.0×10-11 [pa·m3/s] Valve element: 1.3×10-10 [pa·m3/s]
Operating temperature
Body/valve body: 90°C Actuator: 60°C
Open/Close Time
1.0 – 3.0
Material
Body: Aluminum Valve Body: Aluminum

Sealing material: FKM bellows AM350
Operating pressure
0.45-0.55[MPa]
Lifetime
1 million times
Usage expample of Slit valve
It works at the process entrance of the vacuum chamber.
Slit valve: This valve is used as a partition between the atmosphere and the chamber, as a partition between the atmosphere and the chamber, and as an entrance/exit of a workpiece (wafer or glass substrate etc.).


Atmosphere-Chamber: Door Valve Load Lock Chamber-Transfer Chamber-Same Pressure Valve Transfer Chamber-Process Chamber-Back pressure valve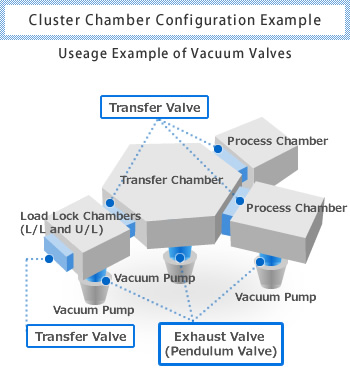 Catalog
Related information